Cruckton & District
Ploughing & Hedging Society
Affiliated to the Society Of Ploughmen Registered Charity No. 215009
Cruckton and District Ploughing and Hedging Society was established in 1927. It is a Registered Charity run by Volunteers. The Society encourage and promote competitions, demonstrations and social events relating to ploughing, hedging and farm management. Each year a new President, Chairman & Vice Chairman are elected by our members at the Society`s Annual General Meeting & our Committee Members are also elected at the A.G.M.
Please keep a look out for any updates on our website www.crucktonploughing.org.uk or our Facebook page -Cruckton & District Ploughing & Hedging Society.
If you are interested in helping in any way, wish to advertise your company in our 2024 Match Guide, book a trade stand or simply make a donation please contact our secretary by email: info@crucktonploughing.org.uk 
President: Mrs Wendy Trow
Chairman: Mr Nigel Vickers
Vice Chairman: Mr Ian Millington
Secretary: Mrs Karen Pritchard
Treasurer: Mr Jimmy Wilde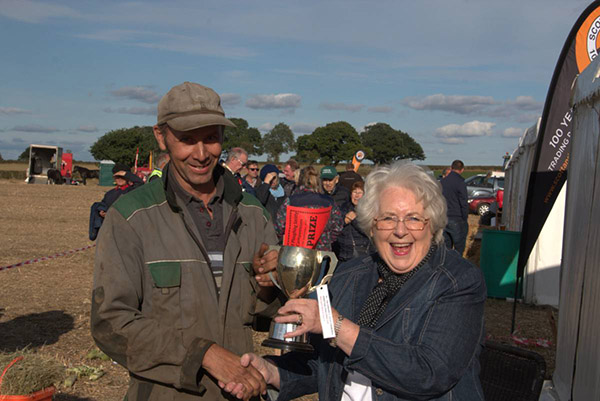 The 90th Annual Cruckton Ploughing Match
The 90th Annual Ploughing Match was held at Hayes Farm, Alberbury by kind invitation of Phil & Ruth Powell on Saturday 23rd September. During the week leading up to the match and all the rain we had, We did wonder if we would have a successful 90th Match but our prayers were answered, the sun shone down on us and we had a perfect day from start to finish.
We had a record entry of Competitors ploughing, with over 95 entries, we enjoyed the wonderful tunes from the Fairground Organ, We enjoyed watching the Threshing Box demonstration from Andrew Goddard and his team, everyone admired the stunning `Steam Sapper` Ploughing Engine and the Tractor & Trailer rides were well attended, taking you around the site and getting a better view of all the ploughing plots, Thank you to you all who took a ride and donated to our hosts chosen charities R.A.B.I. & Midlands Air Ambulance.
A Big Thankyou to our Hosts Phil & Ruth, all of the Cruckton Committee, Judges & Stewards, Sponsors, Agricultural Machinery Companies, Trade stands & the general public, who all came & supported the match. Also, to all our Advertisers in the Match day Programme. Without you all, our Match wouldn't be possible.
I would like to thank all our Tractor Ploughmen/Women & 9 Horse Teams who put on a great exhibition of how ploughing should be done. Thank you all for making it a great day & a very successful 90 th Ploughing Match.
Finally, on the Sunday after the match, we held a 90th Sunday Lunch Celebration in the marquee this was held to raise money for our hosts chosen charities R.A.B.I & Midlands Air Ambulance. Representatives from both Charities joined us for the afternoon & we presented each Charity a cheque of £1000 each & gave them the bucket donations from the tractor/ trailer rides. These 2 charities are extremely grateful for all your support.
Date for your Diary – our 91st Ploughing Match will be held on Saturday 14th September, Harnage Grange, Cressage, Shrewsbury, Shropshire.
Hope to see you all at our 2024 Match